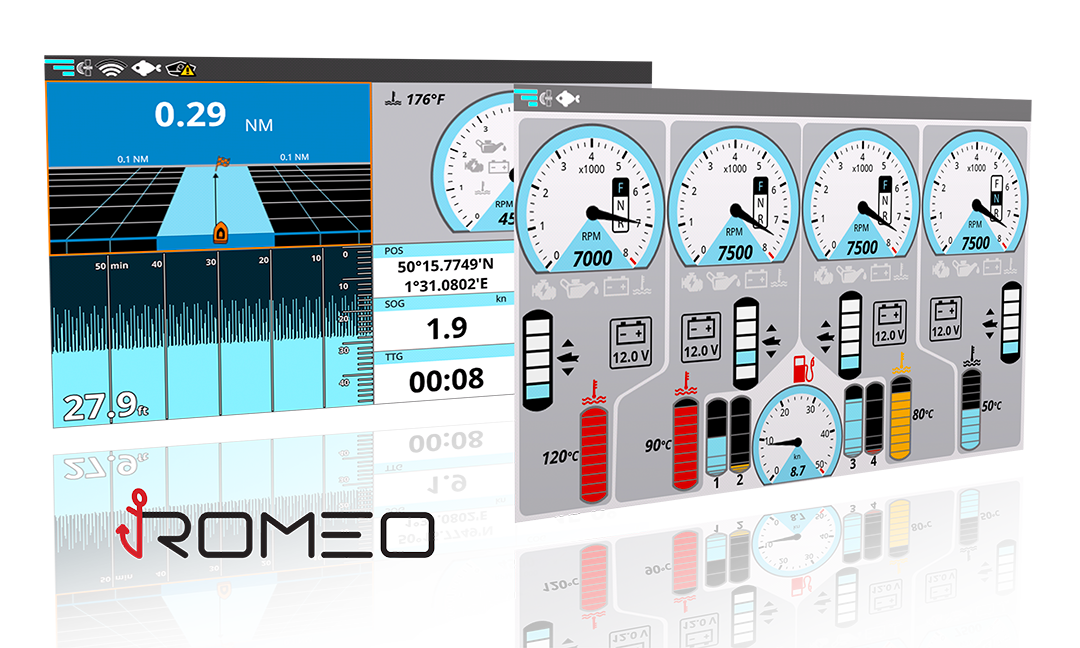 SOFTWARE
ROMEO, the brain of SEIWA navigation systems

All SEIWA chartplotters and MFD come with ROMEO, a powerful, intuitive, and extremely customizable navigation software, constantly improved over 30 years of activity.
Smart: find the most important features immediately available at your fingertips without getting lost in deep menus.

Flexible: change all the settings you want, SEIWA ROMEO gives you the possibility to customize everything.

Complete: SEIWA ROMEO manages external NMEA0183, NMEA2000, or WiFi devices such as fishfinder, AIS, autopilot, radar, engine, etc.
Find here the latest version available
Configure your desired view
Everything under control

Personalize your display configuration: map, fish finder, radar, compass bar, data boxes, or split pages to have everything under control.
Full Map
Explore the Map
Explore your chart database with information on map objects
Full fishfinder
Full echosounder - fishfinder page
The CHIRP fishfinder technology eliminates surface clutter and water column noise, for hi-fi visibility.
Seiwa Romeo Instruments
Instruments and Situational Widget
Connect to compatible sensors such as weather stations and gyrocompasse to view: 3D road, rate of turn, rudder, timer, temperature, roll, pitch, compass, speed, and depht graph.
Navigation and routing
Navigation and routing
Choose your favorite navigation mode: Go To, Route Following, Route Following Optimization and Easy Routing. Use the A-B function to measure the distance and bearing between two points.
AIS
Situational Awareness
Monitor AIS targets and distress signals. Get warned when your boat gets too close to another vessel. Enable Navigation alarms such as: boundary crossing, grounding, dept, etc.
Custom databoxes
Customizable databoxes
Personalize your display configuration: compass bar, data boxes, what and where you want to see it.
Seiwa Romeo Radar page
Radar page / overlay
Transform your chartplotter into an integrated radar display for visual situational awareness, fully integrated with charts, AIS and other features.
Engine page
Engine Monitor
Display engine parameters and performance when connected to a compatible NMEA 2000 engine through CAN bus.
Split Page

Split page
Combine the 5 pages (map, fishfinder, radar, instruments, engine) in split pages creating 10 possible combinations to monitor everything
Advanced data management
Tracks, routes and marks
The chartplotter interface is optimized for an easy, fast and accurate management of your data.

Create marks/events, tracks, routes, waypoints and boundaries and store them in the plotter database.

The advanced tracks management allows you to transform any track in a route.

You can manage up to 30,000 marks with a new set of colors and icons.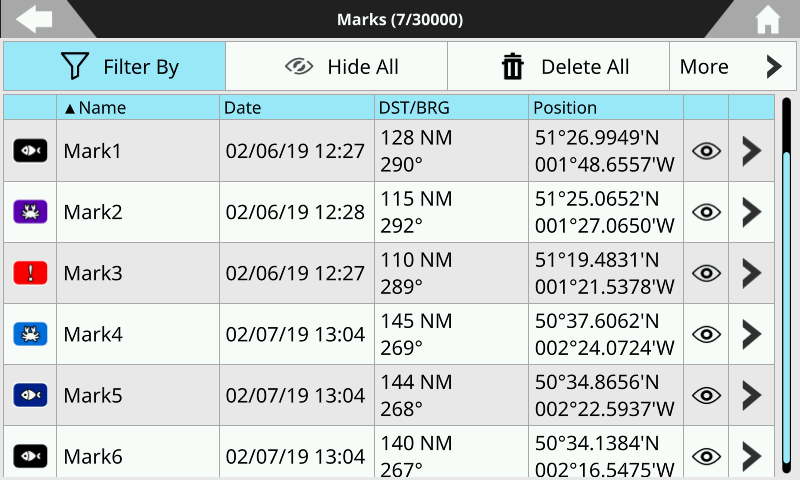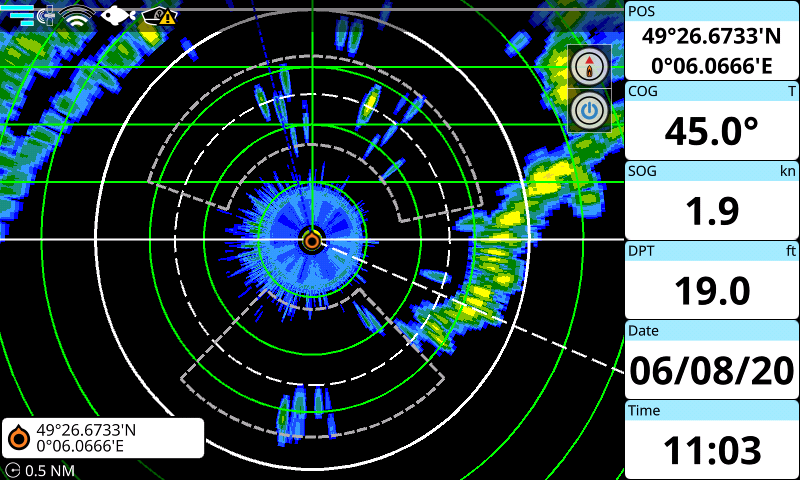 Radar Integration
Improved visual situational awareness

Transform your chartplotter into an integrated radar display for visual situational awareness, fully integrated with charts, AIS and other features.



Learn more
Fishing Ranges
Advanced map option for easier fishing
You can select on your SEIWA charplotter a fishing range: when you know the fish are suspended over certain depths, highlight the range so you can quickly identify more places to check out!

*Function available with NAVIONICS charts.


Learn more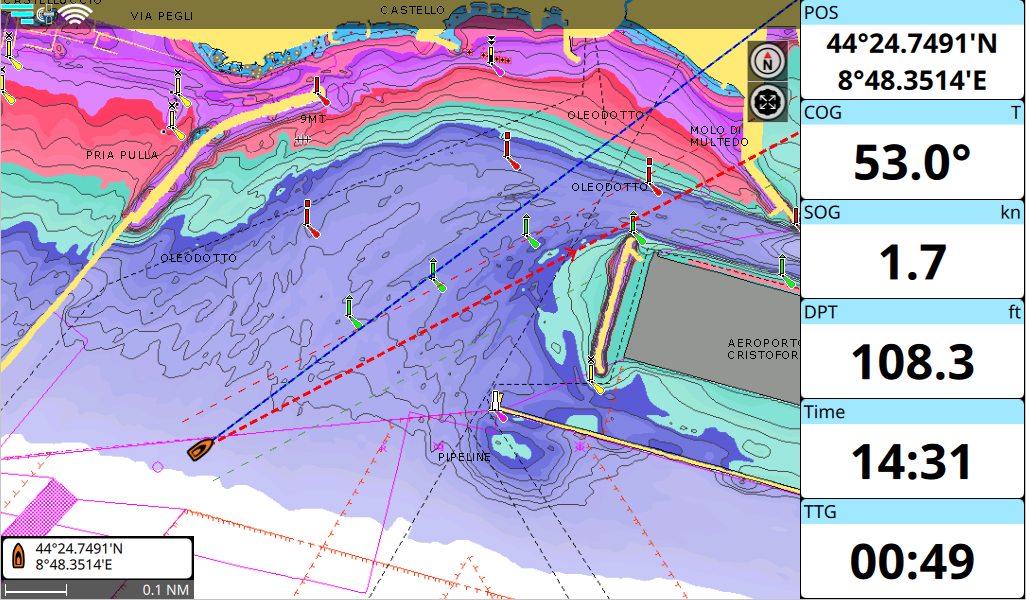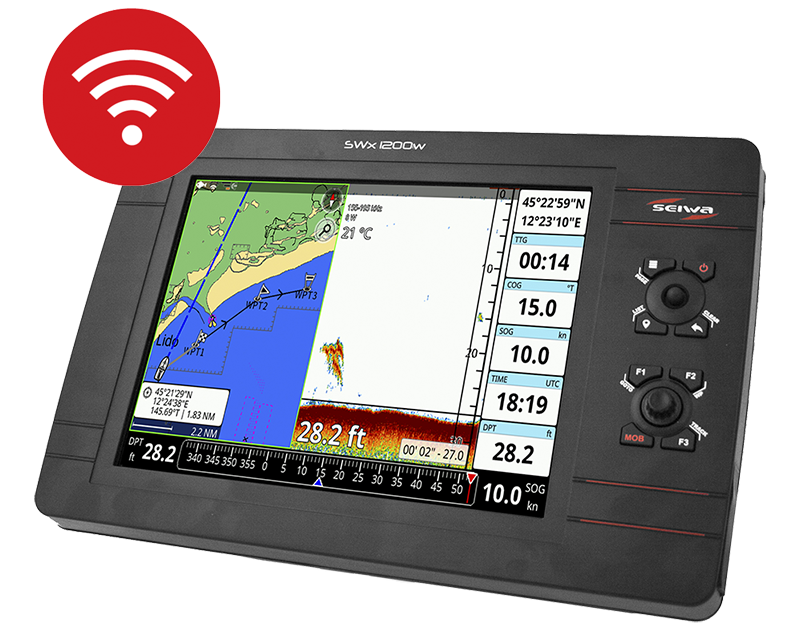 Automatic updates over wifi
Always up-to-date

Your chartplotter is always up to date, thanks to the Wi-Fi connectivity.